---
Special Event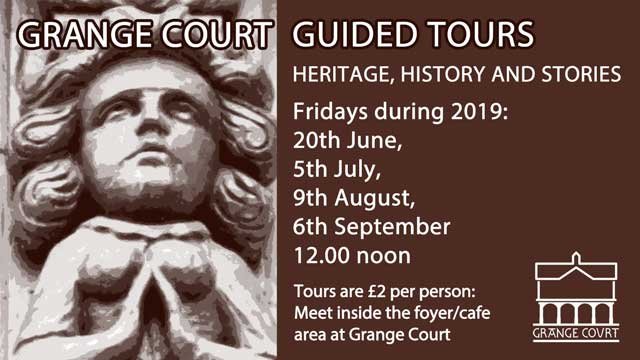 ---
Special Event
Grange Court Guided Tours
HERITAGE, HISTORY AND STORIES
Would you like to know more about Leominster's number one secular building and why it is a building of national significance? Then join Sue Russell for one of her magical guided tours of Grange Court, a place full of history, mystery and fascination.
June 20th, July 5th, August 9th and September 6th all commencing at 12 noon.
Meet at the reception desk in the Grange Court foyer; there will be a charge of just £2 per person.
Did you know that....
- The Grange Court bell would be rung on Pancake Day, to tell
housewives to light their ovens and start making their batter
- Grange Court housed Belgian refugees during WW1
- Some people think that some of the wooden carvings represent the
Seven Deadly Sins
- Grange Court is a Grade II* listed timber-framed market hall built by
John Abel in 1633 and has been turned into a community, enterprise
and heritage hub
Meet us inside the foyer/cafe area at Grange Court at 12 noon