---
Special Event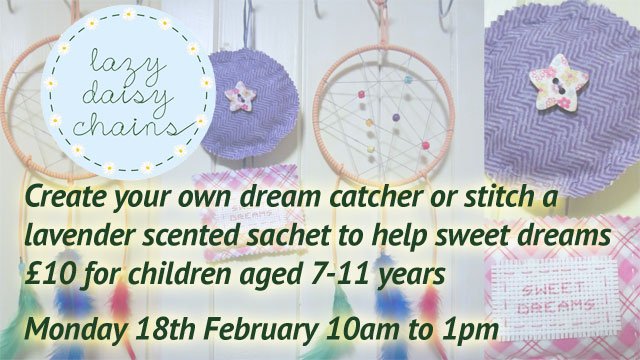 ---
Special Event
Lazy Daisy Chains Workshop for Children
Create your own dream catcher or stitch a lavender sented sachet to help sweet dreams.
For children aged 7-11 years
Lazy Daisy Chains is returning to Leominster this half term, with our 'Sweet Dreams' themed workshop for children, making dream catchers and stitching lavender scented sachets, hopefully welcoming back familiar faces and new ones too.
At Grange Court on Monday 18th February from 10am to 1pm
£10 per person
To book places please contact Andrea:
Email merricafall@yahoo.co.uk or phone 07709939503
About Lazy Daisy Chains
I have always sewn. I started by making dolls' clothes on my mother's Singer sewing machine before studying needlework at school. I took my sewing machine to university in order to have an antidote to studying. It is still essential in my life, be it making costumes for re-enactment festivals or a new set of cushion covers. My love of needlework led me to set up a cross-stitch club at the school where I was working and this led to the beginning of Lazy Daisy Chains. I now run children's sewing workshops during the holidays where the children are encouraged to design and stitch their very own creations. Using our themed workshops, children develop a wide range of sewing skills and most importantly gain confidence whilst having fun.