June Newsletter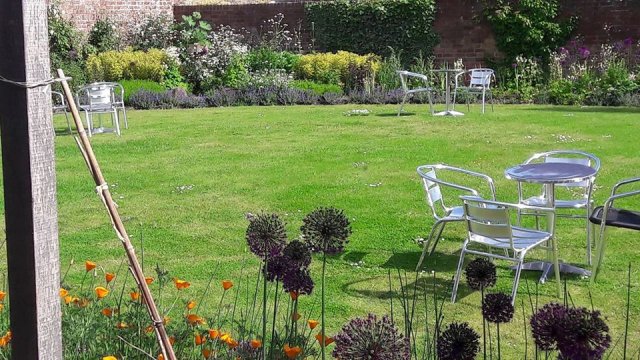 1st June 2017

Grange Court is now opening Monday to Saturday inclusive. We have a selection of sports equipment – from footballs to swing balls - that can be taken to the walled garden or the Grange to enjoy. Grange Court is very grateful to, and wishes to thank, Dean of Clubsport, Leominster for his gift of two new leather footballs – be the first to kick them! These will be a wonderful addition to the sports equipment generously donated by Kingspan.
The café is now selling its delicious range of homemade ice creams to help you cool down after an energetic game.
Most Leominster people know that Grange Court was once a Market House standing at 'The Crosse' at the top of Broad Street, but they may have forgotten that this was also where the Council had its meetings. Once there was a Corporation with an annually chosen Bailiff at its head; now we have a Town Council led by the Mayor.
In the Mayor's Parlour at Grange Court we have exhibition material about our Mayors and their predecessors. There are newspaper cuttings concerning our female Mayors, our first chosen in 1958 – Peggy Pruden Peatt – and many more who have served since.
There is also a young Mayor's costume and splendid hat to try on, together with junior versions of the clothes that the Ale Taster, Fish Taster and Bread Weigher wore.
They will all be appearing in the Ale Taster's Parade around the market and in town starting at 12.00 on 9th June, during the Festival, when a procession of Mayor, Councillors and musicians accompany the three robed officers in their historic roles, as they go round the pubs, bakeries and fish vendors checking on the quality of produce.
Come and watch the fun and see the new exhibition too!
Grange Court will be hosting another exhibition during the Summer – Faces and Voices of Leominster. This audio and photography exhibition will be the result of a project which has involved 20 people of Leominster: all have been recorded and photographed by professional photographer Christopher Preece, who will also curate the exhibition. Please come along to this from 1st July - you're bound to recognise at least one person!
Grange Court and Café, are open Monday to Saturday, 10.00am – 4.00pm. For details of all our events see the website: www.grangecourt.org or visit the Grange Court Facebook Page.
Fay (volunteer)